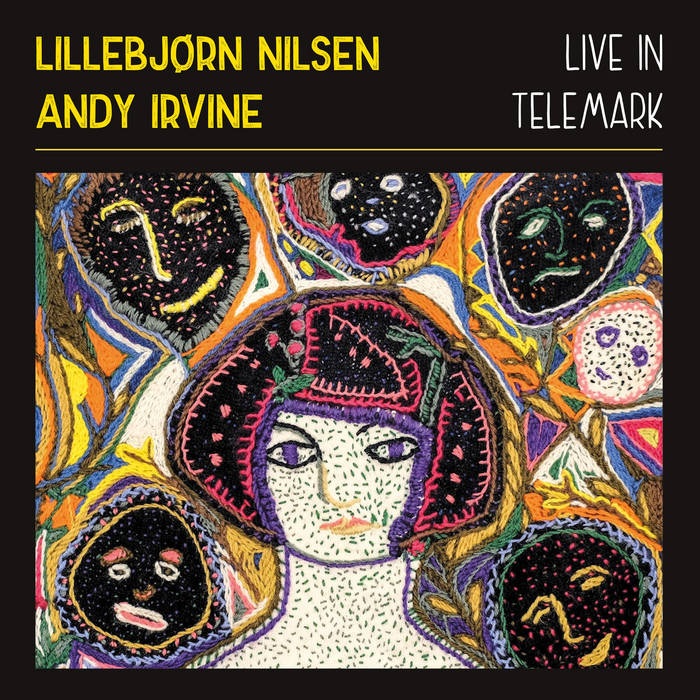 | | | | | |
| --- | --- | --- | --- | --- |
| | 1. | Jenta i Chicago (The Girl in Chicago)  | | |
| | 2. | Come to the Bower  | | |
| | 3. | Alexander Kiellands plass  | | |
| | 4. | Stewball and the Monaghan Grey Mare  | | |
| | 5. | Hav og himmel (Ocean And Sky)  | | |
| | 6. | My Heart's Tonight in Ireland  | | |
| | 7. | Valle Auto og Bensin (The Gas Station Song)  | | |
| | 8. | A Prince Among Men  | | |
| | 9. | Danse ikke gråte nå (Dance Do Not Weep)  | | |
| | 10. | Fort gjort å glemme (Easy To Forget It)  | | |
| | 11. | Patrick Street Halling (Jenta Med Garden)  | | |
| | 12. | Vidvinkel-stev (The Photographers)  | | |
| | 13. | Håvard Hedde/Jig  | | |
| | 14. | Martinmas Time/Hornpipe (Little Stack of Wheat) | | |
| | 15. | Ola Tveiten | | |
about
Lillebjørn Nilsen and Andy Irvine had known each other for about 17 years when they met at the Telemark Festival back in 1994, what they both had dreamt about became a reality. Their collaboration resulted in an exhilarating concert. The live recording is finally released as an album in June 2021.
If it hadn't been for the invitation from the Telemark Festival, 17 more years might have gone by.
"We got together this summer when I visited Dublin, but decided that there was no rush to practise, since we had so much to talk about. Today was the first time we really sat down and went through our material." Lillebjørn Nilsen said back then, before starting the concert with one of his own songs, "Danse, ikke gråte nå".
The album is filled with a superb variety of songs, both serious and humorous, characterised by two performers in top form. Norwegian and Irish folk music suit each other admirably.
"We were on the same wavelength from the moment we met." Andy Irvine also said back then. And that Saturday this common wavelength gave the audience an unforgettable experience.
The two troubadours complement each other perfectly, musically as well as thematically. When Lillebjørn Nilsen sings about the Norwegian emigrant who became "The Girl in Chicago", Andy Irvine counters with the homesick Irish emigrant in "Indiana".
Lillebjørn Nilsen is a Norwegian singer, songwriter and folk musician. In total he has five Spellemannspriser (Norwegian Grammy's) both as a solo artist and as a part of bigger groups. He is often mentioned as Norway's "Folk King".
Andy Irvine is known as one of the greatest Irish singers and songwriters and is referred to as "a tradition in himself". He is also well known for being at the helm of such legendary bands as Planxty and Sweeney's Men.
credits
releases June 18, 2021
Andy Irvine: vocals, harmonica, mandola and bouzouki (string instruments built by Stefan Sobell)
Lillebjørn Nilsen: vocals, willow flute (seljefløyte), guitar (Gibson L-00 ca 1930) and Hardanger Fiddle (The "Bente" by Sverre Sandvik. Given to Lillebjørn by Tinn Municipality, Telemark, as Solprisen, The Sun Prize.)
Cover: tapestry "Gardian Valkyrie" by Borghild Georgine Kraus 1915-1982.
Telemarkfestivalen, 11.-14. August 1994
On site recording, Theatre Gulbring, Bø Telemark, Norway.
Magic wand and remix: Audun Strype, Strype Audio, Oslo Norway 2020
pre-order
Pre-order now in digital download or CD formats on Andy's Bandcamp