Updated / Friday, 28 Sep 2018 14:51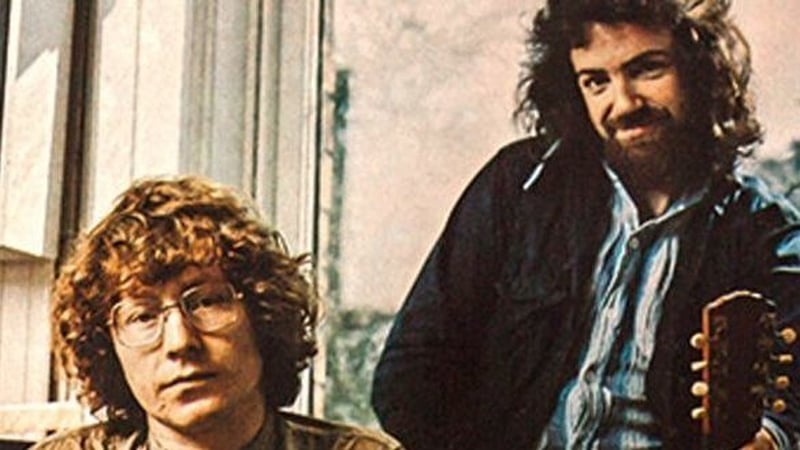 Every week, Simply Folk host Ruth Smith selects a record from the folk music archives.
This week, she's chosen the eponymous duo album from Andy Irvine and Paul Brady.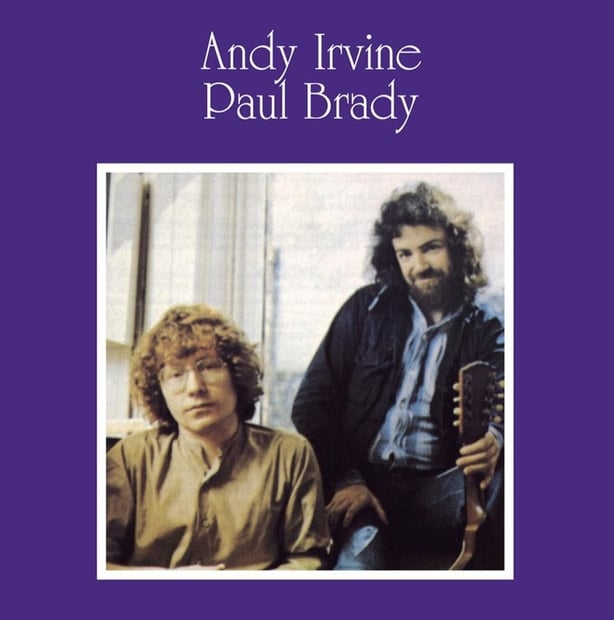 Andy Irvine / Paul Brady
Released December 1976 (Mulligan Music Ltd)
Produced by Dónal Lunny
Additional musicians: Kevin Burke & Dónal Lunny
Most days, in my adopted town of Scariff in East Clare, I pass by The Merriman Tavern, a centuries-old stone building that began life in 1865 as a grain mill, and went on to become one of the most important folk music venues in Ireland in the 60's & 70's.
It's now under lock and key and donning a 'For Sale' sign, but as the saying goes, 'if the walls could talk' they'd probably choose to sing instead, given the musical memories stored within. At its height. everyone from the Chieftans and Clannad to Christy Moore, the Wolfe Tones and Planxty played there – Finbar Furey credits The Merriman Tavern as the first place himself and his brother Eddie played together as The Fureys.
Listen to Andy Irvine / Paul Brady above:
Another first that happened in the town of Scariff in 1976 was the occasion that Andy Irvine and Paul Brady played their very first gig as a duo, in the very same Merriman Tavern.
Shortly after the break-up of Planxty in December 1975, the pair gravitated towards playing together based on the easy musical bond they had discovered over the previous years. The result of that musical union is an album still considered to be a peerless classic in the folk music canon.
Recorded over 10 days in Rockfield Studios, Wales from 24th August 1976, Irvine and Brady were joined by Kevin Burke on fiddle and Dónal Lunny as producer, along with his trademark bouzouki and some guitar, bodhrán and backing vocals throughout the album, too.
Released in December of 1976, their eponymous album is a collection of 10 tracks full of artistry, investigation, individual skill and collective musical ease. From the moment we hear the opening canonic strains of The Plains of Kildarewe're carried by the confidence and inventiveness of the music through asymmetrical Balkan meters, otherworldly Hurdy-Gurdy drones, the filigree of mandolin & bouzouki interplay and some of the most definitive versions of folk song ever captured.
Outside of Brady's unmatched and well-known rendition of the anti-recruitment ballad Arthur McBride, tracks to mention include the tender and magical Ulster love song Lough Erne Shore, that Brady learned from the Man of Song, Paddy Tunney:
Then there's The Streets of Derry, sung by Irvine, one of the 3 songs on the album taken from the collections of Northern Irish musicologist Sam Henry:
And finally, there's Autumn Gold, a self-penned number from Irvine written in the late 60's after time spent in Eastern Europe showcasing his poetic sensibilities and his adroit melodic skill:
Listen to Simply Folk on RTÉ Radio 1 on Sundays at 10pm.
Ruth Smith is the co-presenter (with John Creedon) of this year's inaugural RTÉ Radio 1 Irish Folk Awards, where Andy Irvine will receive the Lifetime Achievement Award, which take place on October 25th, 2018 in Vicar Street, Dublin – find out more here.
source: https://www.rte.ie